in this issue
Homeopathics - Nosodes - From my understanding/point of view
How can I keep my child from catching everything they are exposed to in school?
Hawthorn Berries for people with Heart weakness
Rose Hip Seed Oil


Homeopathics - Nosodes - From my understanding/point of view


Nosodes are being touted as a substitute for vaccinations. What are they actually and how do all homeopathics work? Every disease and every herb or homeopathic or any medication that has an effect on your body has a vibration. The vibrations in homeopathics, herbs or what ever cancel out the disease vibrations. Our bodies are electrical. The problem comes when there are things left behind that the body needs to sluff off and it can't because it is too damaged and clogged up to get rid of the toxin buildup. (especially so with pharmaceuticals and their chemicals, the body does not recognize them as food.) Herbs also feed the body.

Nosodes can be given when your child is exposed to or comes down with a childhood disease. They should not be given before. I would doubt that a child would gain immunity to the disease unless he/she comes down with a full blown case of the disease. Nosodes are prepared from diseased tissue and contain no active organisms - they are quite safe according to Dolisos one of the largest manufacturerw of homeopathics (includes nosodes).
How can I keep my child from catching everything they are exposed to in school?
It was brought to my attention by John Tsevdos of Computer Supplies On Line!!! ( www.toners2000.com ) that I was not technically correct in approaching this subject. Consequently I will give you the whole scoop, as I really see it. Anything we use to "heal" the virus' once established are only band-aids for a larger problem.

I realize that there have been tests given to subjects in which they took them from cold to hot and back again several times and they never caught colds or anything, they remained healthy. I really believe that MOST of what students "catch" in school is the result of lowered immune systems due to nutritional deficiencies. With a lowered immune system their bodies are wide open for anything. Most colds, flu's etc. occur around Halloween, Christmas, Easter etc. when the students are getting a lot more sugar in their bodies than usual. Of course if you ever saw what they give them in school lunches and breakfasts it isn't the least surprising that any student has the mental and physical stamina to accomplish anything in school. They fill them up with carbohydrates and then complain and insist on Ritalin to settle them down. What a horrible circle/cycle we weave. Hyperactive students are more prone to crave and eat more sugar anyway due to a shortage of minerals in their bodies. White sugar leeches minerals out of the body and is especially hard on calcium the nerve supplement.

Check out this site for some great in how various things work in your body such as sugar, soda, caffeine, aspartame, etc. I really don't believe that we need more vitamins as our bodies will make it's own if you give it enough minerals combined with the vitamins you get from your foods.

Great information »


Hawthorn Berries for people with Heart weakness
A considerable body of scientific research shows that herbs and nutritional supplements have substantial effects for prevention as well as treatment of mild to moderate heart disease. While emergency situations are best handled medically, there have been studies in which patients with more severe, chronic heart conditions (who are not responding to standard medical treatments) have shown improvement with herbal or other nutritional alternatives. Many of these are considered standard medical protocols by physicians in Europe and Asia.

Also check out our Remedies A-Z for more information https://www.zhealthinfo.com/remedies.htm



Rose Hip Seed Oil
It has been brought to my attention once again the great value of this marvelous oil when working on skin problems. It has shown positive results in tissue regeneration, eczema, psoriasis, PMS and Menopause. Mixed with calendula it is good for treating stretch marks, burns or scars.. Below are some additional remarks in relation to this Carrier Oil.

Dr. Hans Harbst who is a surgeon and radiotherapist presently practising in Chile says that he uses Rose Hip Oil for treating skin alterations especially secondary dermatititis which take place as a result of radiotherapy. He say "I have applied Rose Hip Oil on all types of skin. Rose Hip Oil acts on scars reducing hyperpigmentation, flattening hypertrophia (bulky scars) and loosening up fibrous cords. All these effects end up in a near complete attenuation of scars."... "Contributions to Identification and Application of Active Components Contained in Rose Aff. Rubiginosa. ...Dr Bertha Pareja, Principal Professor, Faculty of Pharmacology and Biochemistry, University of San Marcos, Lima Peru and Dr Horst Kehl, from the School of Pharmacology of the University of Missouri, Kansas City....."tests were done on women aged .. 25 - 35 who had surface wrinkles and brown spots. They were controlled and assessed during the summer of 1988, all applied rose hip oil on the face for four months. Apparently significant changes were noticed by the third week. Firstly surface wrinkles started to disappear, spots started to fade until at the end of the fourth month the disappearance was complete. Skin presented a smooth and fresh aspect and the spots had almost disappeared."

"I am aware of some of the research you quote and I have used rose hip seed oil in therapy to help reduce _surgical_ scar tissue (both old and new) with very good results." - Butch
Hanna Kroeger - A True Pioneer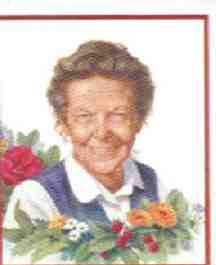 We have two favorite Herbalists - Hanna Kroeger and Dr. Christopher. Both were inspired and willing to go against the powers that be for their beliefs. They knew without a doubt that they had God on their side. This week we would like to highlight Hanna Kroeger - A true Pioneer. A unique quality to a lot of her healing insight is the use of vegetables and other "unusual" methods that I haven't seen elsewhere that are found in her books. She was truly a unique one-of-a-kind person.